Kolejny przepis na wypiek o nieco mniejszej kaloryczności. Pamiętajcie jednak, że to, że jest lżejszą wersją tradycyjnego sernika nie znaczy, że nalezy zjeść go więcej 😉
Sernik jest mało słodki (choć ma to swoją zaletę), ale jeśli zależy Ci na osiągnięciu słodszego smaku to dodaj więcej cukru lub ksylitolu. 
Smacznego.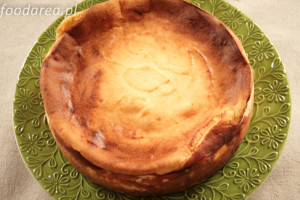 Sernik o obniżonej kaloryczności
Składniki: 3 łyżki (ok 50g) masła, 50g cukru brązowego (lub najlepiej ksylitolu), opakowanie cukru wanilinowego, 2 jajka (2 żółtka i 2 białka), 1 łyżeczka proszku do pieczenia, skórka starta z 1 cytryny,750g chudego twarogu zmielonego dwukrotnie, szczypta soli.
Masło utrzeć z cukrem i cukrem wanilinowym. Ucierając dodawać po jednym żółtku. Nadal miksując dodać proszek do pieczenia i skórkę z cytryny. Następnie dodawać twaróg miksując na niższych obrotach. Białko ubić ze szczyptą soli na sztywną pianę. Dodać do twarogu już nie miksując a delikatnie mieszając łyżką. Blachę cienko wysmarować masłem. Wyłożyć ciasto do blaszki/ tortownicy. Piec ok 60minut w temperaturze 180stopni C. Po tym czasie wyłączyć piekarnik i zostawić ciasto w środku na ok. 20 minut lub dłużej aż piekarnik wystygnie.