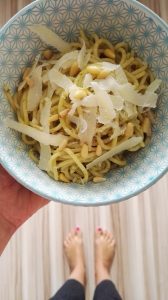 Dziś miałam urwanie głowy. Wspominałam o tym, że piszę książkę? A więc termin oddania jest bardzo bliski, coraz bliższy, więc praca nad książką wre! Dziś był jeden z tych dni, kiedy pracujesz i zaczyna burczeć w brzuchu a Ty orientujesz się, że właśnie nadeszła pora kolejnego posiłku! A sądziłam, że minęło ledwie pół godziny. W tym samym momencie orientujesz się, że w lodówce pustki. Ale są jakieś zioła w doniczce, jest oliwa, są ziarna, jest makaron. Jest co jeść 🙂
Pesto z bazylii. To jeden z przepisów, który zawsze się uda. I taki, który zrobisz szybko. Obiad idealny, szybki, zdrowy i sycący. Do zrobienia pesto potrzeby będzie blender a jeśli dysponujesz blenderem ręcznym to najlepiej nakładka siekająca na blender.
Składniki:
garść listków bazylii (oczywiście świeżej)
ser parmezan (u mnie grana padano), u mnie ilość 2x ktora widoczna jest na zdjęciu
oliwa z oliwek, 5 łyżek
łyżka obranych ziaren słonecznika
łyżka orzeszków pinii (moga tez być obrane ze skórki migdały lub większa ilość pestek słonecznika lub dyni)
czosnek, 1 ząbek
makaron ugotowany al dente
Jak przygotować:
Zostawiasz połowę plasterków sera. Wszystkie składniki oprócz orzeszków pinii blendujesz w blenderze. Mieszasz z ugotowanym, odlanym, ale jeszcze gorącym makaronem. Na wierzch posypujesz orzeszkami i połową plasterków parmezanu. I już. Prawda, że to szybkie i pyszne danie?